L'ÉQUIPE : A big success for eco responsible ball
Team Mag is dedicating its backstage to Rebond and the launch of its ethical ball around a collaboration with the club FC Nantes. 
Enjoy the reading!
In partnership with FC Nantes, Rebond will release an eco-responsible ball, made in India on the principle of fair trade. Four hundred orders were taken in the crowdfunding campaign that ended on Monday, with the initial two hundred targets being well exceeded. The founders, Simon Mutschler and Louis Guillizzoni, 33 years old each, also dream of creating a range of Made in France balloons. It would be a first since 1975 and the legendary Adidas Telstar.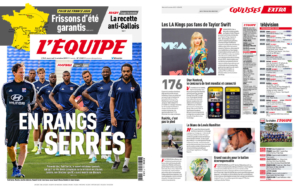 Source : L'Équipe of 10/23/2019
{{ $localize('errors.quantity_revised') }}
{{ $localize('errors.quantity_out_of_stock') }}
{{$localize('subscription.payment_amount')}}