Making the sports ball
a committed object
with strong values
Helping each other, solidarity, overtaking oneself... so many values carried by the field of sport, and through which our society likes to take an example and be inspired. Today, popular sports are essential showcases and have the strength to be able to convey strong messages. We are determined to make sport the vector of new environmental values, through an emblematic spokesperson, a central object on a sports ground: the ball.
The ball can say a lot of things about the society in which we live, the ball is popular and unifying everywhere. A poor student in this area, by acting on its market, we want it to take the essential ecological turn, and make it a real catalyst for players in the sports world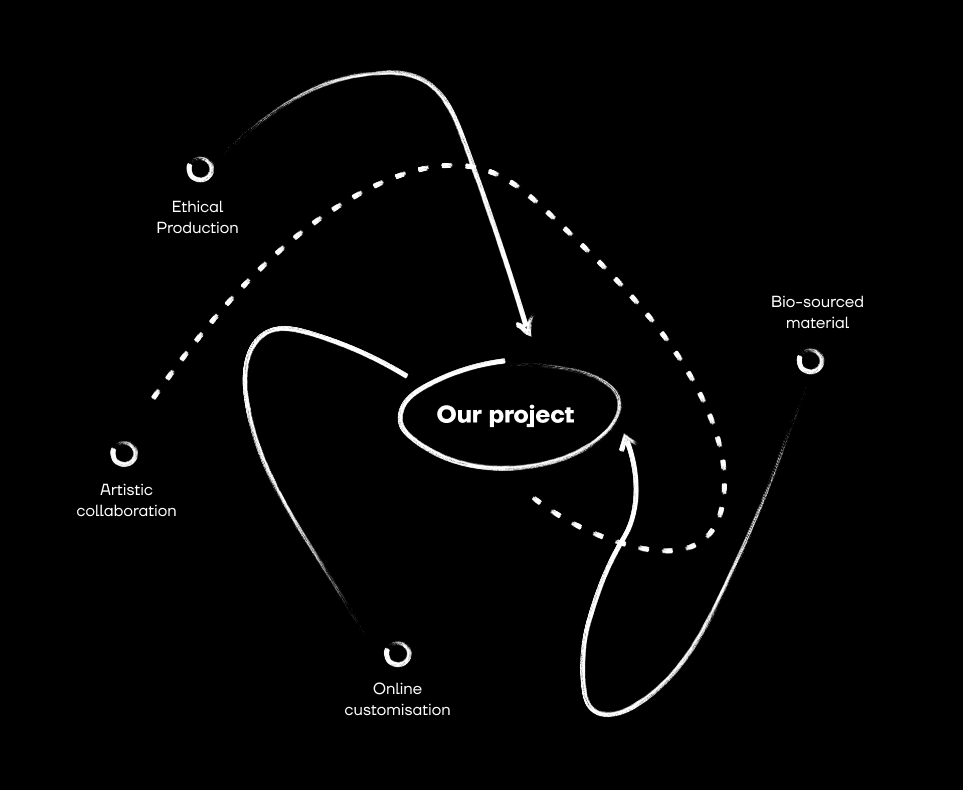 The ball is
an universal
language.
We love to play with it
with it and pass it to a friend,
an outsider.
As the main player on the ground, we have chosen the sports ball as our emblematic spokesperson.
That of a world that changes and bounces back towards a harmonious future, respectful of man and his environment. 
At Rebond, we want to make sports balls differently: thanks to our innovations, we have chosen to make them an ethical, eco-responsible and local product.
To do so, we are working on three main axes :
-Develop balls in bio-sourced materials (= with organic material residues)
-Work on a circular economy around the ball by recycling or upcycling end-of-life products
-Develop a French production chain
FOOTBALL RUGBY BASKETBALL HANDBALL VOLLEYBALL 
FOOTBALL RUGBY BASKETBALL HANDBALL VOLLEYBALL 
Balls
in bio-sourced
material.
Make balls whose outer material is derived from organic residues of plant origin : It's possible !
This is our light motive. We reduces the share of fossil energy in the ball, to work with a maximum of natural materials. Accompanied by French manufacturers who joined the adventure, we hope to release this first bio-sourced ball, meeting international competition standards in 2022.
Inside the ball, we want to use recycled foam and polyester, with a natural latex inner tube, to have the 'healthiest' ball possible.
On this final ambition, we are progressing in each component, allowing us today to offer "clean" ball as much as possible, that does not contain phthalates, and whose inks are conformed with the strict European standards for games and toys (EN 71). Technically, our balls meet international competition standards.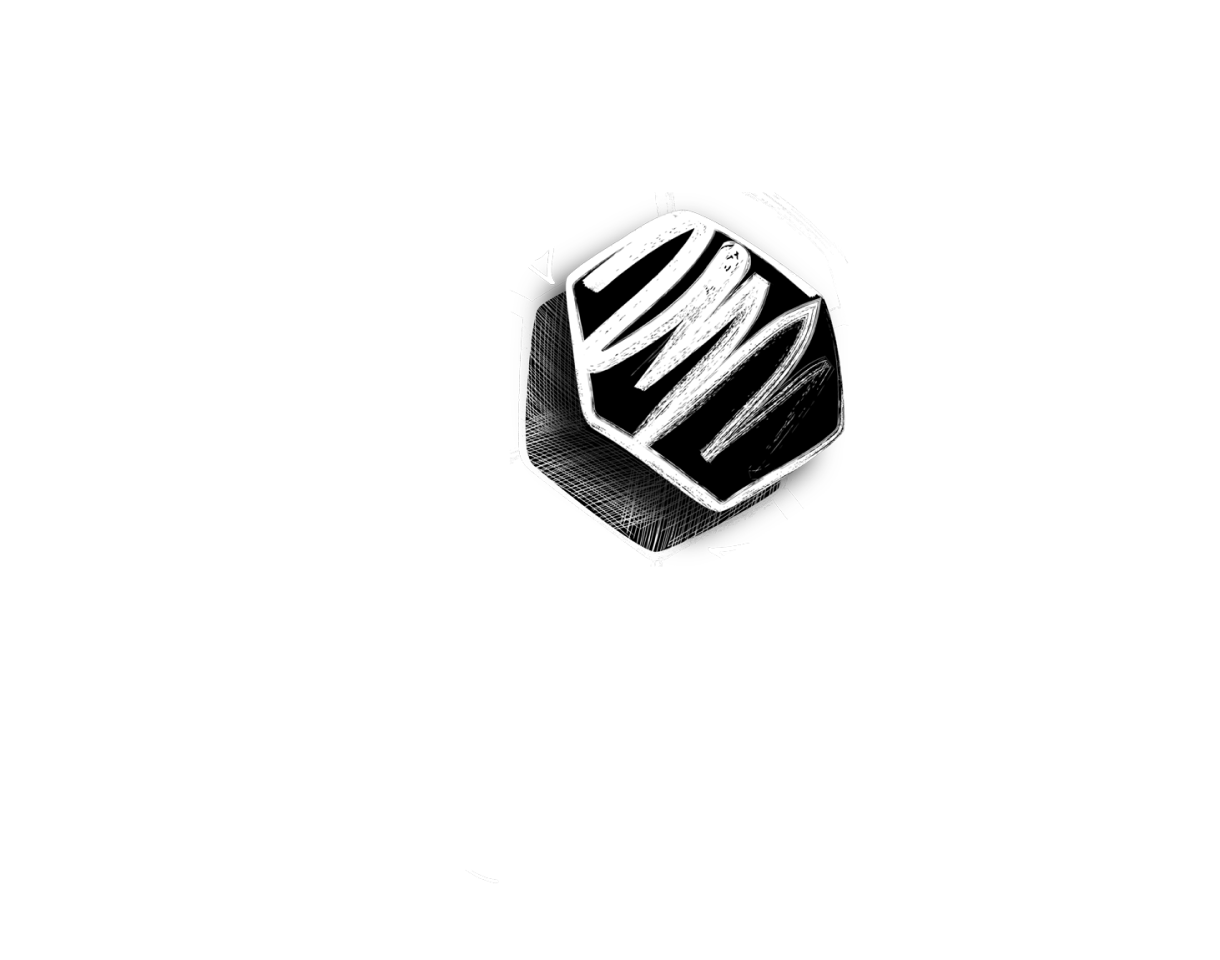 The nowadays balls production : Did you know ?
Have you heard about imitation leather when talking about the football ? Behind this term is « simply » hidden plastic: all balls are now made of PVC or PU.
Nowadays when we are all moving towards a healthier world, and consumption committed to products that respect people and the environment, the ball acts as a bad student through the materials used and in its production methods.
Especially since no European standard governs the sports ball when entering our territory: a door open to many cases of abuse.
Behind our ambition, hides a real societal issue: that of influencing a positive impact by producing healthy materials, to respect people as users and producers, as well as our planet.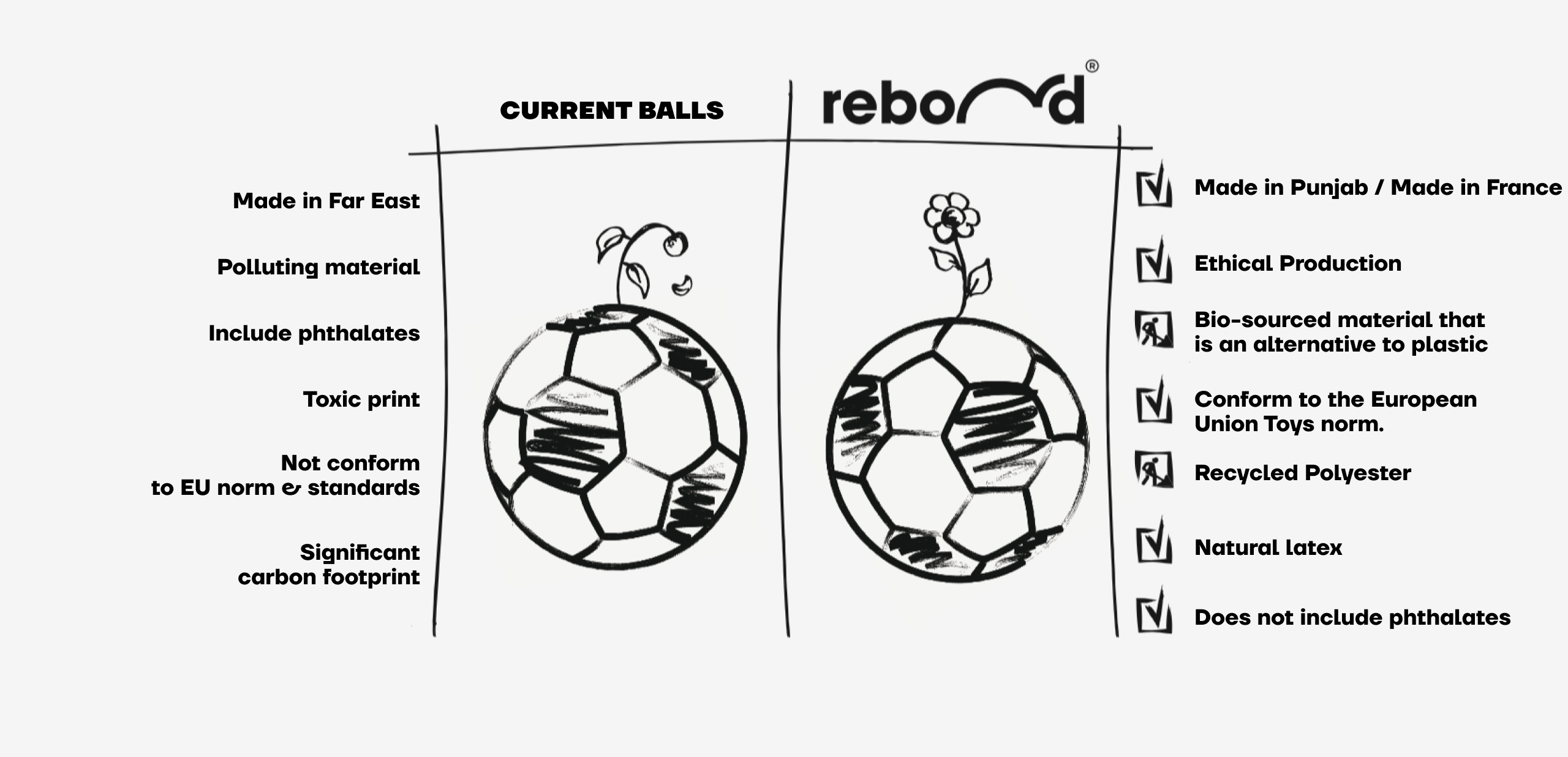 Made
in France
Relocating the production of sports balls in France, a great challenge !
Today, Punjab (the region between Pakistan and India) produce over 85% of the world's manual production of sports balls. Cultural know-how that these two countries have acquired through their history, and which is part of their heritage. The ball is connected to this part of the world like soap to Marseille, marble to Italy, or cashmere to India.
Our desire is not to relocate a Punjabi know-how, developing the local economy. But rather to develop a French production chain complementary to these workshops. We are lucky in France to have access to excellent engineering, allowing us to challenge the materials used on the ball. We see this French and Punjabi knowledge as complementary. We believe that eco-responsibility should be seen in an international and not a national way.
Since 2019, we have developed a French production line whose assembly workshop is located in Loire-Atlantique (french department 44). The materials used come from Ain ( french department 01) and our industrial partners are located in Loire-Atlantique (44) and North (french department 59).