An ethical and solidarity-based ball with roots in Lille
LOSC x Rebound
An ethical and collectible ball
Designed by an artist from Lille and full of solidarity, this balloon was produced in a limited edition.
The result of a three-way collaboration between LOSC, the Lille artist Kylab and the Lille brand Rebond, this art object and sports equipment proudly bears the official colours of the northern club. Its original design was inspired by the architecture of Lille and the history of LOSC. Just like the tangles of brick blocks that shape Lille's buildings and make up the city's identity, the artist has worked on superimposing symbolic elements of the city of Lille, mixed with iconic references of the club.
A limited edition collector's ball that meets international competition standards.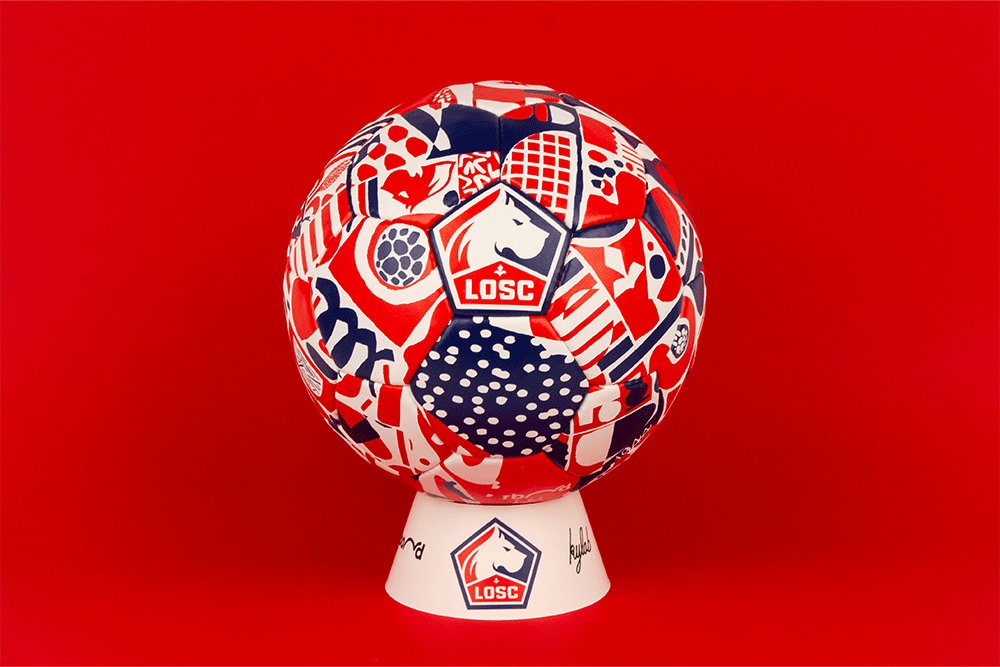 Football Size 5 match quality in limited edition. Hand-painted and hand-stitched in India, in a factory committed to fair trade and Fairtrade
(see "Punjab, the historic birthplace of the sports ball")
. Phthalate-free product, EN-71 inks. Design by Lille artist Kylab. Sales in aid of the LOSC FONDS DE DOTATION.
Our balloons are delivered inflated (up to 3 balloons) within 3 to 5 working days via Chronopost.
Rebond now offers Hipli delivery! Receive your balloon in a reusable parcel made from recycled polyester: you just have to send it back thanks to its pre-paid envelope. Hipli means 83% less carbon impact and 25kg of waste avoided. To find out more, go here!
You have 14 days to change your mind! To make a return, you just have to make your request to the customer service at hello@rebond-project.com.
Remember to moisten the needle before inflation! Your soccer ball should be inflated to a pressure of between 0.6 and 0.9 bar, or between 9 and 11 PSI.
Caution: Failure to follow these instructions may result in a risk of puncture or bursting.
A balloon from Lille, designed by a Lille resident
Kylab, a graphic artist inspired by his city.
In love with his city, a craftsman of shapes, colours and typography, Jérémie Wostyn, alias Kylab, draws his inspiration from urban culture, incorporating in his works the coloured bricks and the mix of styles that dot Lille. In the design of this balloon, Kylab has brought together graphic and dynamic elements inspired by the city's geometry - its famous neo-Flemish arches and buildings, its red bricks. As a fan of LOSC, he also depicted shapes from the world of football - spherical elements and fields with their lines and markings. Finally, the club's symbols are well and truly embodied - the Dogue, the fleur de lys, the club's logo... All in a very modern and graphic patchwork that echoes the graphic charter of the northern club.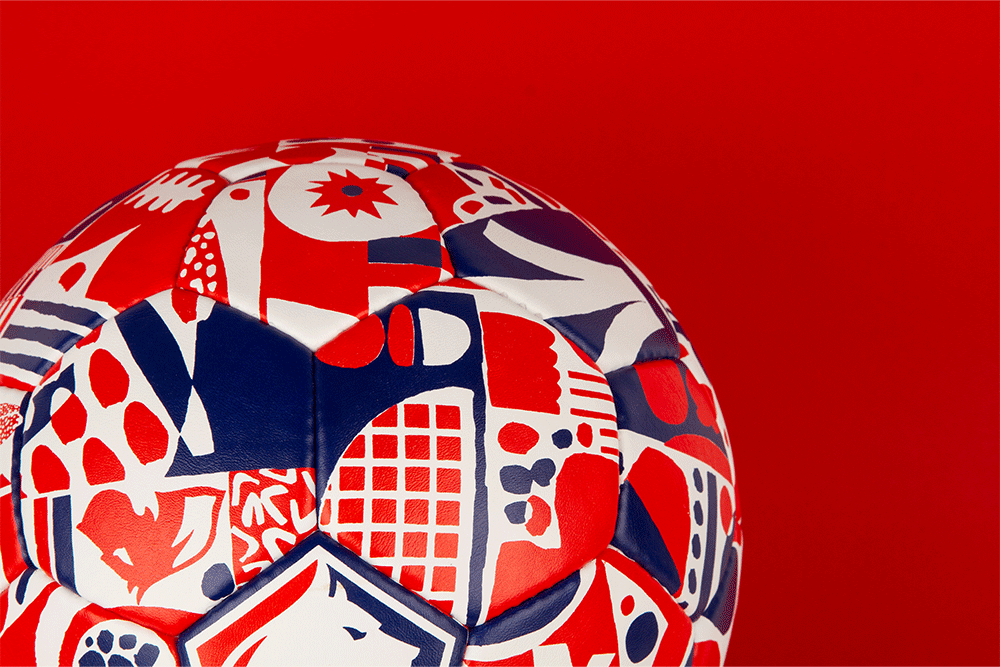 The LOSC Endowment Fund
An ethical project contributing to the action of the LOSC Endowment Fund.
The club from the capital of French Flanders has a rich history of supporting socially committed actions and initiatives. By affirming its desire to carry out more CSR actions and to be part of this approach in the long term, the Lille club is positioning itself as a major player in society.
The LOSC x Rebond x Kylab ball is handcrafted, but it is also intended to be socially and ecologically responsible. It is produced in a FairTrade certified factory , guaranteeing a fair price and decent working conditions for all the stakeholders in the production chain. 10% of the price of each piece sold will be donated to the LOSC Endowment Fund.
Launched in 2020 to consolidate the club's action in terms of Corporate Social Responsibility (CSR), LOSC Endowment Fund acts on three pillars: social, health and environmental.

Rebound and LOSC
Hand in hand towards eco-responsibility.
Did you know that LOSC is the first professional club in France to reduce and offset its carbon footprint to the point where it has been awarded the "Climate Neutral Now" label by the UN?
This latest action is the result of a coherent collaboration between a committed French club, a local artist who is a fan of his team and an eco-responsible Loire brand.
Technically, this product is made without phthalates and its graphics are made with EN-71 anchors. Each balloon is also delivered in an organic cotton bag, with a base made from recycled materials, certified 100% PEFC (certification that promotes sustainable forest management).
"We have designed an ethical balloon, which is a first step towards eco-responsibility. This collaboration benefits our ambition to make a 100% eco-designed ball for 2022. Indeed, each project we carry out at Rebond feeds our R&D. Therefore, each time a club develops a project with us, it puts its brick in our development program of eco-design of balls and enters into an eco-responsibility approach", - Simon Mutschler, founder of Rebond Project.