How are Rebond's eco-friendly balloons made?
Transparency
The essential questions
How are Rebound balls made?
The balloon industry is facing many challenges. At Rebond, we have asked ourselves the questions that are inseparable from the ecological, human and economic challenges brought about by this production sector.
How are the balloons made? Where are they assembled? What materials are used? How are our employees paid?
To answer these questions, we first looked at the most popular ball of its generation: the soccer ball. Here are our answers to these essential questions, which are the reason for Rebond's existence.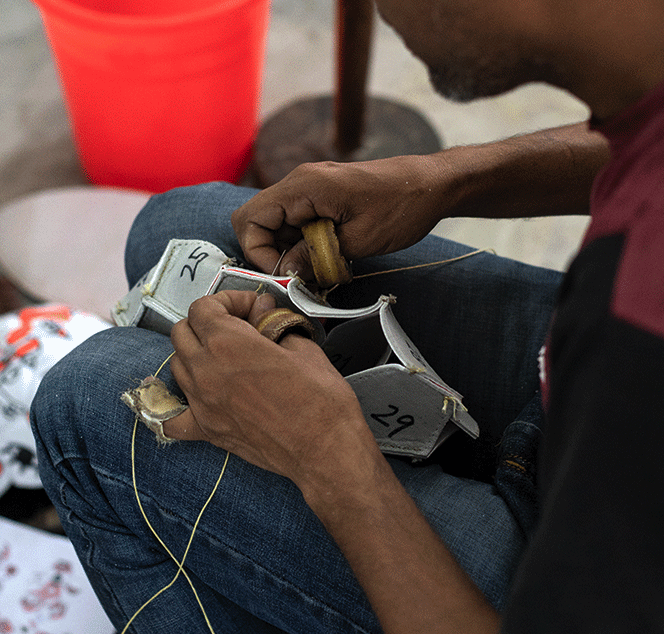 Envelope, materials, components...
What are Rebound balls made of?
Under its 32 hand or machine assembled panels, the classic soccer ball hides several layers of materials: PVC or PU sheet, EVA or PU foam, polyester or cotton canvas, latex, PVC or resin bladder, inks.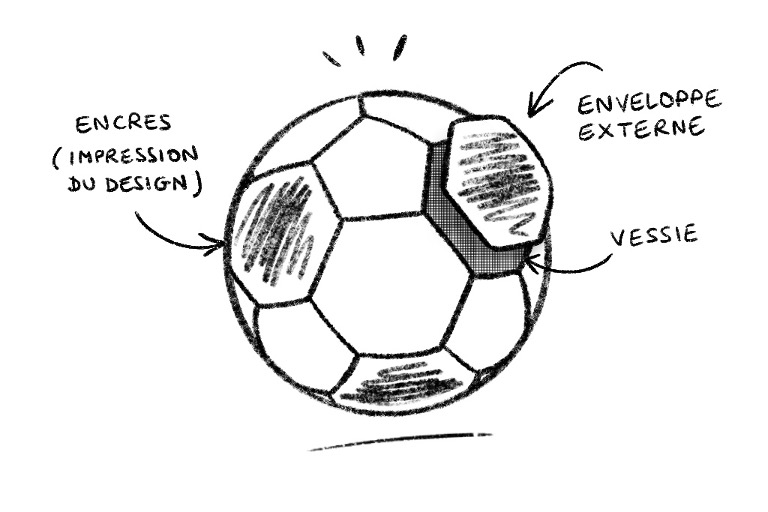 THE OUTER SHELL
---
The external envelope of the soccer ball is composed of 3 layers of material essential to make it a performing object on the field. At Rebond, months of R&D were necessary to achieve a complex assembly in eco-design, capable of achieving the same technical qualities as the competition soccer ball.
Rebond's main innovation: the compound. What we call compound is a complex of vegetable matter made from soybean oil harvested in Ukraine and transformed in France, in our region of Loire Atlantique.
Beyond its bio-sourced composition (from renewable organic matter), this new material allows us to produce a mono-material envelope that allows the recycling of the balloon, which was impossible until now.
> A balloon to recycle? Go here !
The outer leaf
This thin layer of flexible and resistant material is the visible part of the ball, on which we print our designs. At Rebond, this envelope is made of bio-sourced PVC, 51% of which is made from renewable organic materials.
La Mousse
Also designed from bio-sourced PVC from our R&D, the foam is the essential element that ensures the cushioning of the ball. It is one with the outer sheet, which allows us to recycle materials.
Interlining
This layer is made of RPET, which is recycled polyester, to reinforce the envelope and facilitate the assembly of the ball. The interlining is glued to the foam layer with natural latex, to give it bounce. For the production of one balloon, we recycle 10 plastic bottles.
         > Recycled Polyester Analysis Report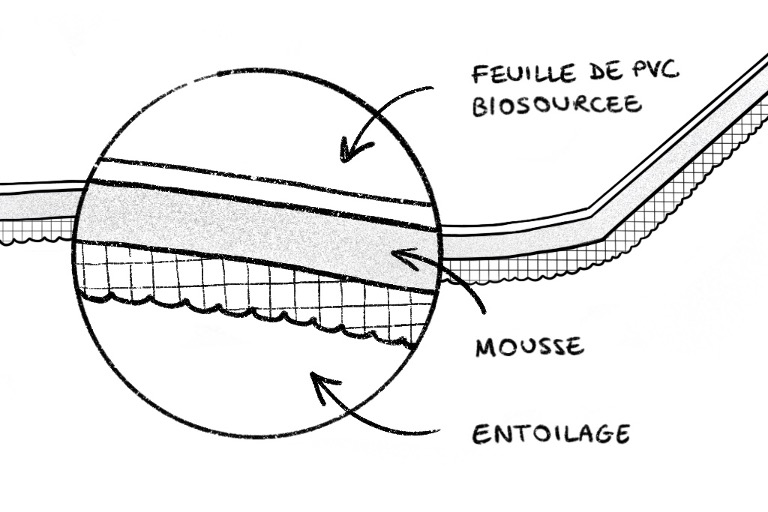 THE VESSIE
---
The last assembly element, the bladder, allows the balloon to be inflated. It gives the outer envelope its perfectly round shape.
Our bladders are made of natural rubber harvested in South India and produced in Jalandhar, just a few steps from our assembly plant. Natural rubber is an elastic substance that comes from latex, the transformation of plant sap. The forests from which we source our products are managed by the state in a sustainable manner under the international PEFC label.
THE INKS
---
Today, there are no regulations concerning the inks and paints used on balloons sold in France.
At Rebond, we have given a framework to the ball by applying the European standards of the game and the toy with the use ofinks EN71, which allow the use of the product by a child and are free of hazards in terms of toxicity, migration and flammability.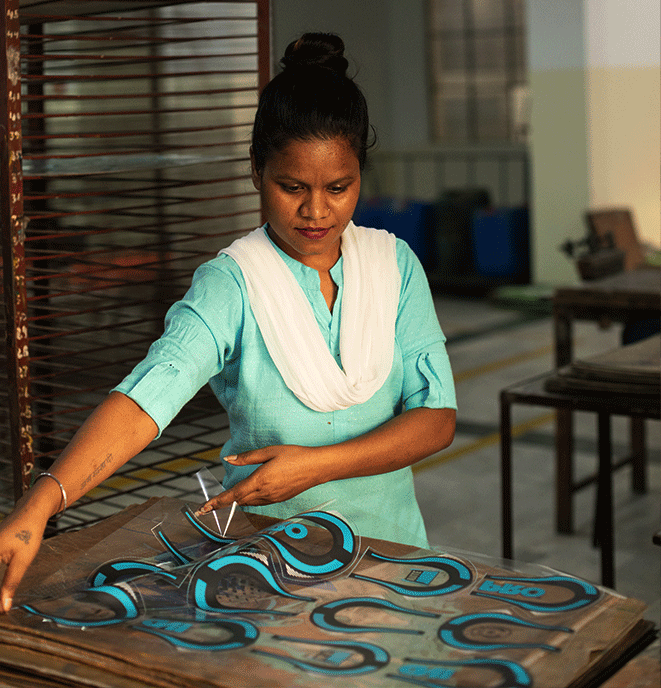 Design, procurement, production...
Where are Rebond balls made?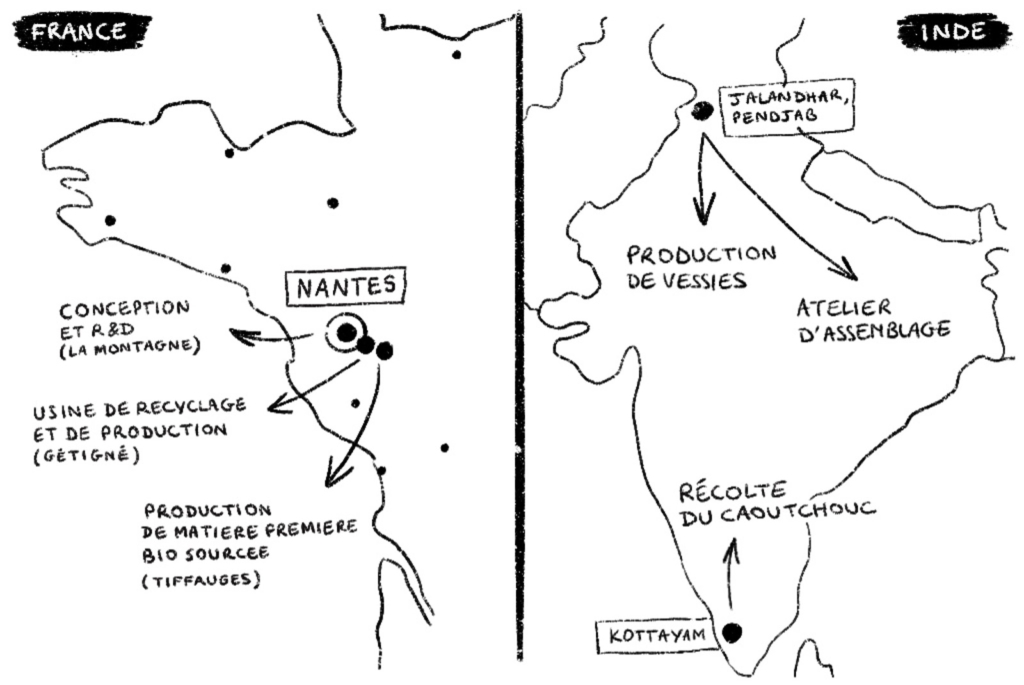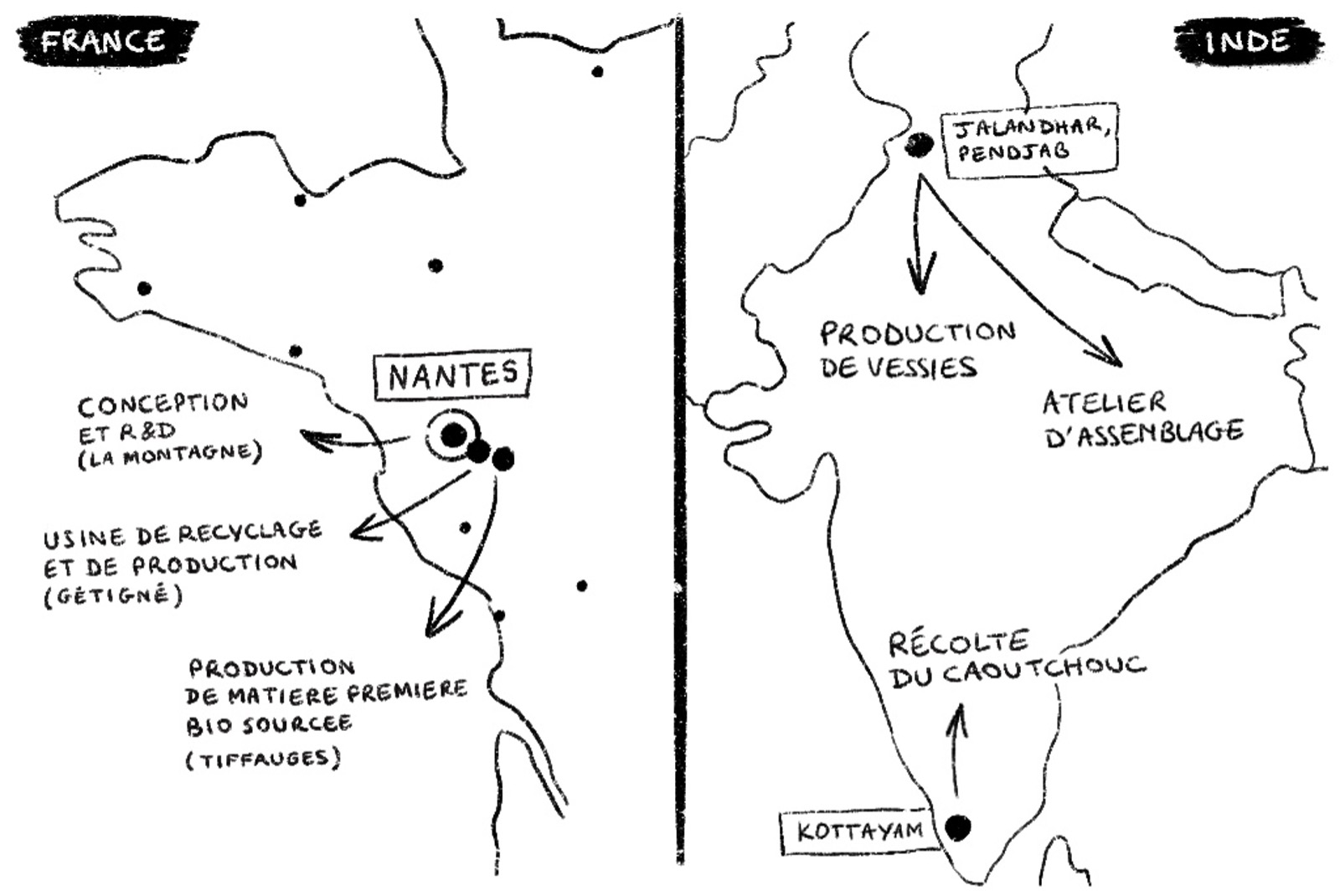 Straddling India and Pakistan, Punjab is the region where the balloon was born in the 1930s, during the colonial period. Although China has recovered a part of the market during its recent industrial development, 85% of the manual production of balloons remains from Punjab, because of its historical know-how.
In order to continue to promote local know-how, we have chosen to strengthen our ties with Punjabi producers. We contribute to the economic development of this specialized region by working under the Fairtrade standard, which allows us to pay our partners fairly and transparently.
Today, Anourag and Anouj - father and son directors of the Pundjabi assembly workshop - are an integral part of the Rebond project. Experts in the balloon, they act as true guides in our R&D process.
In parallel to our Punjabi workshop, we work with a French production site, located a few kilometers from Nantes. Initially specialists in leather and footwear, they have been able to tame the complex product that is the ball, because it follows the same steps of production.
Thanks to Thomas, head of production, we have developed together a specific assembly workshop for the ball within their factory. Shirt ball, leather ball, game ball... The access to our innovations linked to the high-end know-how of the French couture allowed us to reintroduce the Made in France ball, with projects in collaboration with the PSG, Bayern Munich, the FFF... And others to come!
Technical mastery and haute-couture
Combining complementary know-how
Rebond has chosen to work in France and in Punjab, to link two cultures with complementary historical know-how. Punjab is the mastery of the ball in all its aspects. France, it is the haute-couture which benefits from a privileged access to R&D resources.
The Made in France balloon would not exist without Punjab, and the eco-designed balloon would not exist without France: we work hand in hand to pull each other up.
Fairtrade, 1% For The Planet, associations...
Social commitment and fair trade
Talking about ecology is also talking about people. The relationships we have with our partners are essential and play an important role in Rebond's decision making. Suppliers, producers, associations... We treat each employee with great respect and consideration for their work.
Fairtrade
---
Rebond works with all its partners under the principle of fair trade. Our commercial commitments are based on dialogue, transparency and respect in order to achieve greater equity in our trade.
To this end, Rebond balloons are produced under the Fairtrade standard of the NGO Max Havelaar. The Fairtrade standard ensures that producers receive a fair and stable price, sustainable trade relations and the implementation of measures to protect the environment and employee safety.
Through this commitment, we also pay the Fairtrade Premium to the workers, which ensures them a decent income, higher than the local average wage.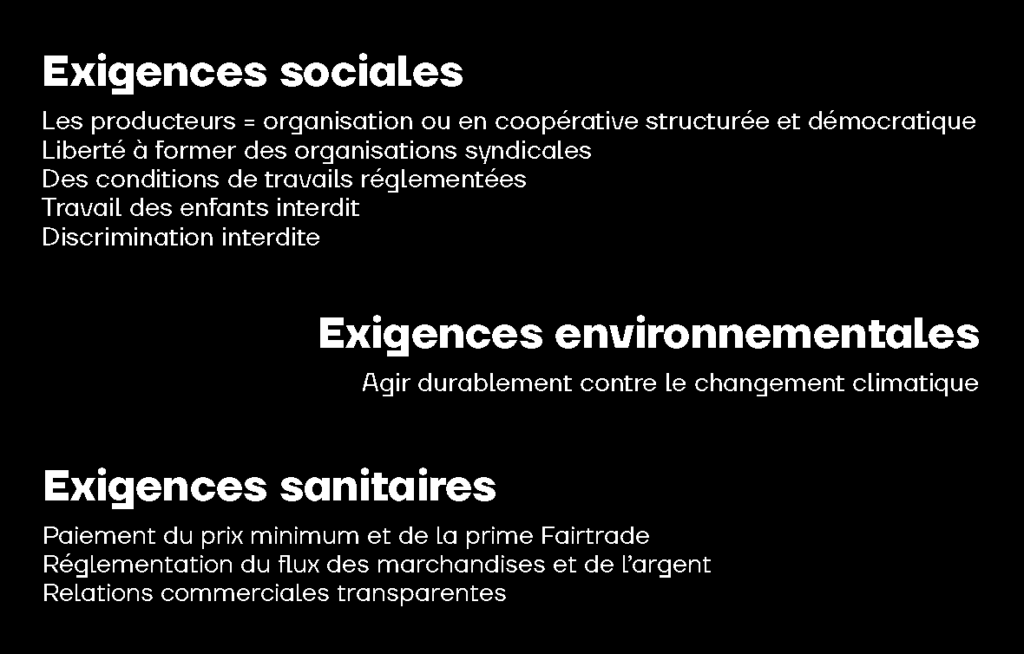 > Read more about our Fairtrade commitment
1% For The Planet
---
Beyond the ball, we want to make a lasting commitment. To this end, we are linked to the worldwide 1% For The Planet collective to which we donate 1% of our annual turnover to be redistributed to associations, organizations and companies working to preserve the environment.
Today, 1% For The Planet already has 6,000 members in nearly 91 countries, and more than $350 million has been donated to environmental organizations.
Involvement in associations
---
Behind each project, we wish to highlight and support an association.
Access to housing with the Abbé Pierre Foundation, support for caregivers with the Fondation des Hôpitaux de Paris or pediatric cancer with Run For Hope... We sell our balloons to benefit various causes by working with artists, brands, and committed companies.
Our limits, our hopes, our projects
A balloon made of vegetable matter, that had never existed before.
But how is soy grown? What is the proportion of bio-sourced in the finished product? Is our Fairtrade commitment sufficient?
Many questions remain unanswered. Because the vegetal balloon is not only that. It is also our sustainable commitment and our will to remain transparent towards the product. Aware of the challenges to be taken up in the years to come, here are the questions that trace the road to the balloon of tomorrow.
External surface: By working with bio-sourced materials, we reduce our impact on the planet by saving fossil fuel resources. But bio-based materials have their limits and a product cannot be 100% bio-based. In our case, it is 51%. This is certainly a big step forward, because 51% of fossil energy is "saved" with our balloon. But we must seek to go even further, we are already starting tests to reach more than 80% of bio-sourced on our external surface.
And perhaps the solution will be found elsewhere than in bio-sourced, this step will take us to new horizons, for sure.
Internal surface: Our balloons are made of recycled polyester from plastic bottles. This is the layer that prevents us from having a 100% mono-material product to this day, and that imposes us a separation of materials when we wish to recycle the ball. We are currently working to standardize 100% of the materials used on our balls in order to promote the recycling of our products.
Bladder: This is a product on which we have not focused our R&D. We work with natural materials (rubber, latex) from responsible plantations managed by the Indian government. We still need to go further in this area, by seeking to label the social environment of producers via our partner Fairtrade for example. We are already working on the recycling of these materials but have not internalized it, which has an impact in terms of transport.
Finally, there is a point of vigilance around the processing of these materials by vulcanization; we must ensure that emission limits are respected.
Cotton: In the balloon, there is cotton. It is used for the sewing threads used to assemble the balloon. It is certainly a minimal use compared to other materials, but the cultivation of cotton requires a significant amount of water, and is often the result of intensive cultivation using mechanization. We need to take steps to support our suppliers towards a label (e.g. GOTS) or even consider other less risky textile fibers such as linen or hemp.
Some other issues to address or monitor: We need to keep a close eye on transportation throughout the life cycle of our products, as well as on the control of the end-of-life of the product, by proposing a simple and efficient system for the recovery of used balloons.
We have to listen in general, and to you in particular; we have been accompanied by an external company to analyze the life cycle of our products: EVEA, and try to work every day with common sense, to offer you a product that makes sense.
The exchange of knowledge and sensitivities are for us the keys to a well designed product. Because we are convinced that the answer to the current challenges of our society will be collective.