SO FOOT : A ball for solidarity
SO FOOT talks about solidarity balls on their site. Balls created with the graphic studio The Feebles and with eco-responsible values. 
Enjoy the reading! 
A ball for solidarity.
The Rebond brand and the graphic design studio The Feebles, two companies from Nantes, launched at the beginning of the week a major operation called « Solidarity balls ». The two companies have indeed combined their talents to create two balls (one for football and one for rugby), the profits of which will be donated to the Fondation Hôpitaux de Paris-Hôpitaux de France.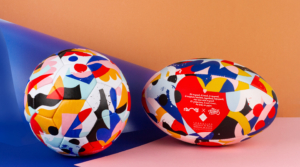 Made in India in a factory engaged in eco-responsible trade, the two balls are distinguished by their multiplication of bright colours. Important detail: while they seem more like decorative objects, at first sight, they nevertheless have the official certifications for use in competition. Rebond had already caused a sensation a few months ago, by marketing a ball entirely focused on the history of FC Nantes.
The people of Nantes definitely have a heart in the right place.
{{ $localize('errors.quantity_revised') }}
{{ $localize('errors.quantity_out_of_stock') }}
{{$localize('subscription.payment_amount')}}